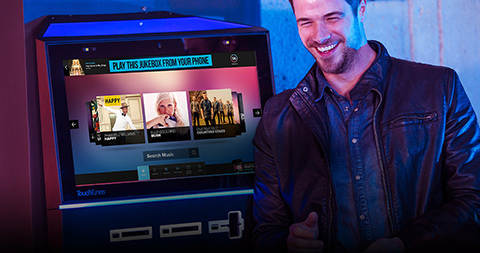 Playdium Jukebox
A true next generation entertainment platform, Playdium delivers a breakthrough, tailored music experience that reflects the unique musical taste of each venue.
TouchTunes has released a new model of jukebox that delivers a breakthrough and tailored music experience. The TouchTunes Playdium reflects the unique musical taste of the venue where the jukebox is installed.
The Playdium is 100% customizable and offers sophisticated music genre filters. The advanced mobile app allows for a new interactive way to play and is subject to whatever filters you request we put in place.
The Playdium is a housed in a compact and sophisticated package which features a 23-inch touchscreen, subtle lighting, and angled reflective surfaces. The Playdium Jukebox is well suited as the entertainment centerpiece for any venue.
Music is core to the TouchTunes experience. TouchTunes latest smart jukebox learns music genre patterns from the music most played in a location and adapts over time to highlight those songs, artists and search results that are most relevant to the venue.