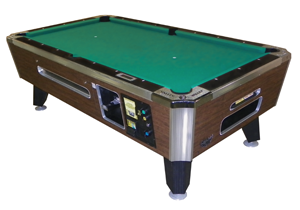 Pool Tables
One of the most popular features in any venue is a full sized pool table. Offering the best modern technology with the Panther ZD-X, McGee Amusements can help you choose a pool table that is a perfect fit for your venue. We offer a number of options, including different sizes to fit your venue, felt colors, and feature sets in the ZD-X.
Choosing the Right Pool Tables
When choosing a pool table for your NY or NJ venue, there are a few things to keep in mind. In addition to providing a high quality playing experience, the Panther ZD-X automates many of the time consuming headaches that you once had to deal with, including:
Automated collection of league dues
Advanced pricing software to customize your fees
$1-$20 bill collector installed
One piece ball collector eliminates ball hangups
The Panther ZD-X pool tables come in either Cheyenne Leather or Black Cat finish to fit the decor of your venue, and there are three sizes available for each finish, ranging from 88" to 101", so you can get just the right table to fit the space you have available.
Contact McGee Today
If you are ready to choose a new pool tables for your NY or NJ venue, contact McGee Amusements today and ask to speak with one of our pool table experts.